Breakfast at Rio las Aves Lodge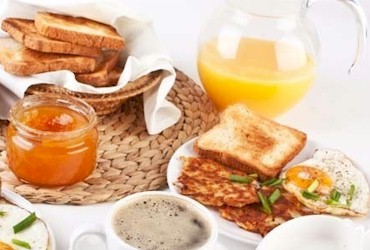 Awakening of Rio de las Aves!!
Who has not dreamed of waking up and finding a country breakfast?

The dreamy soul returns to the body when we start our day we join through our memories aromas that lead us to the eating place, located in front of the lagoon watching ducks and birds, with a privileged view.
Observing the behavior of birds that seek their supplies to start your day, continue enjoying the delights that await us:

Infusions:

TEA, TRADITIONAL MATE, COFFEE, MILK, NATURAL FLAVORED YOGURT, YOGURT, ORANGE JUICE.

Toppings:

VARIOUS BREADS, WHEAT & BRAN, SLICED HAM, CHEESE, SCRAMBLED EGGS, CRISPY BACON, CEREALS, BUTTER, CREAM CHEESE, LOCAL HONEY

Sweets:

JAMS, CHOCOLATE PUDDING, APPLE PUDDING, TYPICAL ARGENTINE FROLA PASTA, BREAD WITH HONEY, MINI CROISSANTS WITH HAM AND CHEESE, FRUIT SALAD, BANANAS, GRAPEFRUIT, FRUITS FROM THE SEASON.